Managed Service Provider
A Managed Service Provider (MSP) is an outsourced agency that manages the Contingent Workforce Program (CWP) of a client company. The outsourced company, MSP, takes on the responsibility for managing the sourcing, engagement and management of temporary, contract, contract-to-hire talent for the client company. A MSP is a physical company / firm.
Benefits of an MSP :
Sources and manages temporary staffing needs of a firm through one centralized hub or business partner.


Becomes cost-effective as the firm pays a fixed monthly fee, eliminate initial investments on process of recruiting and technology.


Recruiting and bringing on quality candidates.


Consolidating contracts into one master agreement.


Eliminate inflated bill rates.


Streamline and reorganize ineffective workforce practices and processes.


Improves vendor management. Increases vendor visibility and availability.


Decrease turnovers and overtime rates/charges.


Use their own internal processes or collaborate with external VMS' to create a "one-stop for all" recruiting experience.


In recent times Contingent Workforce has become an integral part of the American work culture. That would include freelancers, contractors, temporary hires. Consequently, this has resulted in IT companies reaching out to IT Service Companies to help make the recruiting process quick, efficient and cost efficient.
Managed Service Providers (MSP) being specialized outsourcing agencies manage the client company's contingent workforce via their own preferred agencies.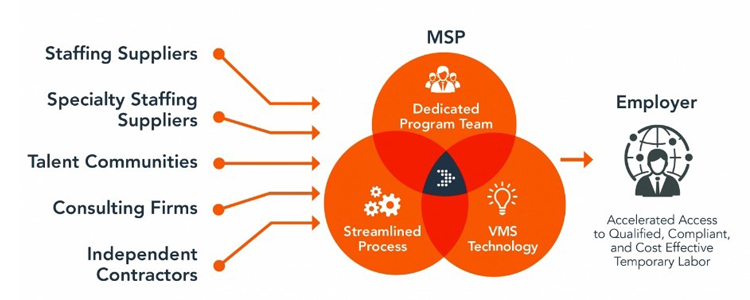 ITBrainiac's delivery model for our MSP clients is simple. Being a recruiting and customer service organization, we provide Quality candidates Faster and within Budget, so that our end clients can meet their commitments.
Having worked with top MSP firms in staffing, ITBrainiac has developed a foolproof MSP Delivery Model, which runs like a well-oiled machine. When you work with us, you have access to not only the best clientele, but also have access to highly skilled talent that work alongside a motivated, ambitious team of recruiters.
So Why ITBrainiac?
E-verified: Being an e-verified firm gives us access to the Federal Electronic System. This enables us to verify employment eligibility for all our candidates before submission.
Dot our I's and Cross our T's: ITBrainiac has a dedicated screening team for collecting and validating all our resource's documentation. This team focuses on authenticating the candidates' paperwork. Every candidate is required to submit their Driver's License, Educational certificates, work status documentation etc. to us so that our team confirms the candidates' legitimacy.
Database: We have a proprietary Applicant Tracking System (ATS) of more than 450,000 active and passive profile right at our fingertips. This database is updated periodically to bring in latest updated profiles or flush out any profiles that are obsolete. Consequently, our recruiters rarely need to search for candidates outside our system.
Speed: Having the convenience of our very own ATS, enables us to respond / submit profiles for requirements we get from our clients almost immediately. 92% of the requirements received have profiles submitted within the first couple of hours.
Accuracy: At ITBrainiac, we strive to connect you with talent that not only matches the work requirements but also the culture of the firm. 95% of our recruiters have a technical background and that constitutes to us being able to submit ideal profiles for requirements we receive. Unless specified by the client, we provide 2-4 profile per requirement which are spot-on for the skills requested.
Value: Albert Einstein said, " Strive not to be a success, but rather to be of Value." ITBrainiac staff firmly believes in this concept. We constantly evolve our MSP delivery model to meet the industries latest policies. We, as a team and firm, are metric driven and regularly measure our performance based on the common metrics used by our clients to review their suppliers in the Scorecard Process.
BGC: ITBrainiac partners up with renowned Background Check firms such as First Advantage Corporation (FADV), Automatic Data Processing (ADP), Quest Diagnostics and Right Hire, to name a few, to ensure the candidate is suitable for submission. This helps us to be 100% Compliant on all our quarterly audits.
Complaince: ITBrainiac understands growth of our firm is directly reliant on our relationship with our client. And so, we're unwaveringly committed to following contractual rules and guidelines given to us by our client. This helps us be 100% compliant on all our clients' quarterly audits.
Collaboration: In the last decade, we've been able to improve and enhance our database, client relations, vendor relations and delivery model to a place where we are considered among the Top 1% IT vendors with our clients.
ITBrainiac is a people and process driven firm. We combine staff, processes, technology, resources and philosophy to provide our clients with the best possible outcome.
We've been able to develop multiple focused teams who have extensive knowledge of the industry as well as our clients' business module.
This enable us to provide 24/7 staffing services for our clients in various areas or categories, such as, but not limited to:
Technology
Engineering
Infrastructure
Healthcare
Finance and Banking
Human Resource
Executive Recruiting
Project Management
Retail and Apparel
Manufacturing